Managing Telegram support bot
Overview
To check the status of a payment or an operation, you can use a number of options which include the Telegram bot of the ecommpay technical support (see FAQ to find more information about other options). The bot allows you to:
request payment details for one or more payments by one of their IDs (payment_id, operation_id, ARN, RRN) listed in a message or an uploaded file.
find out why your payments are declined

and what steps you can take to remedy the situation.

create a support ticket in case the bot cannot find the information you need, following which the technical support will contact you via your

Dashboard

account email.
resend or cancel resending callbacks for a specific operation.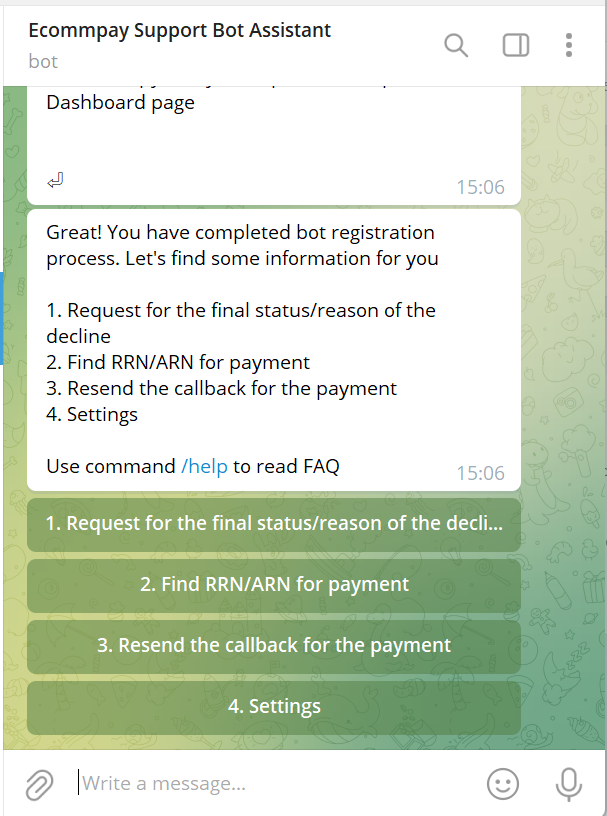 However, when you work with the bot, keep in mind the following:
You have to link your Telegram account to the

Dashboard

account that has been granted the permission to activate the Telegram bot.
You can link only one Telegram account to one

Dashboard

account at a given time.
There are no limits imposed on the number of either Telegram bot or

Dashboard

users for a merchant.
You can only get data of projects your Dashboard account has access to.
You can request payment details for up to 150 payments or operations via an uploaded file.
You can select a default project and a default bot language.
Activating and deactivating the bot
To activate the Telegram bot, you should link your Telegram account to your Dashboard account:
Initiate a conversation with the bot and read its welcome message.

Go to the My profile section, open the link that is shown in the Telegram BOT panel, and connect to the chatbot.

If the Telegram BOT panel is not shown in your profile, contact the ecommpay technical support for assistance.

Copy your Telegram ID.

You can find it in the welcome message of the bot or in its settings.

Activate the Telegram bot in

Dashboard

.

Go to My profile in Dashboard, paste your Telegram ID into the corresponding field of the Telegram BOT panel, toggle the Activate bot switch on, and in the popup window that opens enter a confirmation code sent to you in the message from the bot.

Make sure that the bot is activated.

The toggle switch Activate bot is on, and the bot has sent you the confirmation message.
To deactivate the bot, turn off the toggle switch Activate bot.
A deactivated Dashboard account automatically deactivates the bot for a linked Telegram account. If the bot is deactivated, when you message it, you will be asked to activate a Telegram account in Dashboard. If your employees use personal Telegram accounts to work with the bot, it is recommended to check whether their Dashboard accounts have been deactivated when they leave the company.